Most Frequently Asked Questions About Commercial Painting Projects
A commercial painting project is vastly different from the average residential project, so we compiled this list of commonly asked questions to better clarify the commercial painting process for large building owners.
1. What is commercial painting?
Commercial painting jobs entail applying a fresh coat of paint to a range of buildings from apartment complexes, office buildings,  and manufacturing plants to schools, hospitals, and more. Professional contractors will work on projects of all sizes, but they typically require a knowledgeable crew and  commercial painting equipment.

Depending on the scope of your project, commercial painting crews may work multiple shifts to skirt around complex schedules, coordinate trade interactions, and complete the required work to meet the specified deadline. In addition, commercial painting projects generally demand more technical skills and management than residential painting projects.
2. Is commercial painting more expensive than residential painting?
The total cost of either a commercial or residential project depends on several factors. Since commercial painting services frequently require more specialized paint, equipment, and skilled laborers, quotes for commercial buildings are often higher.
For example, commercial painting contractors must consider premium-quality paint based on what surfaces they're painting– such as metal, wood, masonry, or other– and the building's exposure to harsh conditions like winter weather. Commercial buildings are also more complicated to paint and require additional safety training and precautions when painting tall buildings or in tight spaces.
3. What kind of paint is used for commercial painting?
Each commercial painting project has different conditions, coating needs, and performance requirements so the type of paint used can vary from project to project.
Elastomerics, latex, acrylics, epoxies, urethanes, and solvents are all types of coatings that can be used.
Depending on your project and its requirements, a professional contractor will help you decide what the best paint to use is.
4. How does a commercial painting contractor estimate the cost of a project?
Determining a fair price for a commercial painting project can seem overwhelming if you haven't worked with a professional painting business before. In general, a painting estimate will include prep work, paint and equipment used, and all associated labor costs. 
Upon analyzing any bid, ensure that the proposal covers all your expectations for the project and that you feel confident the company can deliver within your desired timeframe. Be sure to ask about any unexpected hidden costs that could crop up later and increase your final cost.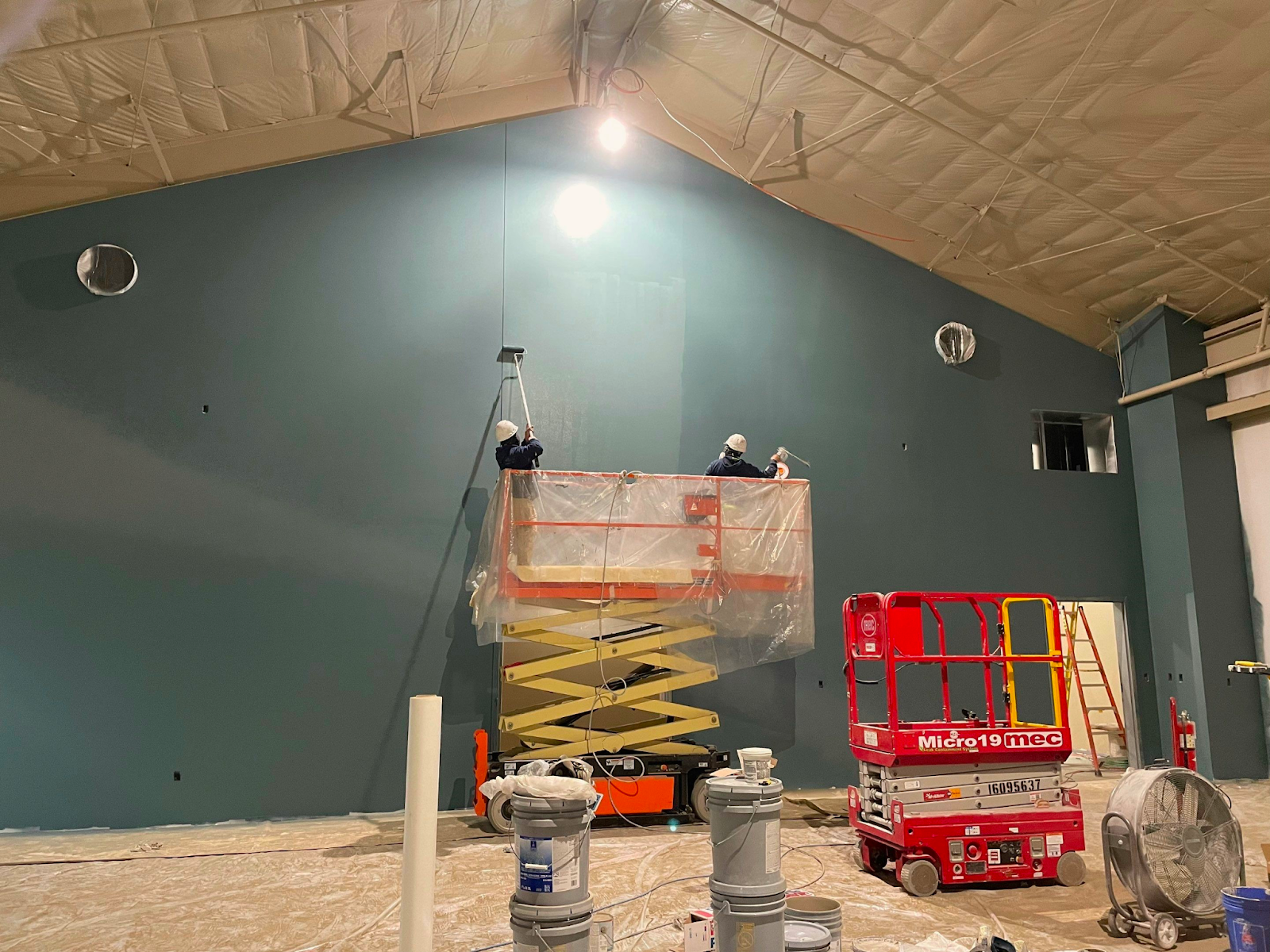 5. How often should the exterior of a commercial building be painted?
As a general rule, you should examine whether or not to repaint your facility every 3 to 5 years. Tell-tale signs that you're due for a repaint include fading colors, peeling paint, chalking, mold and mildew, and other forms of environmental damage. Keep in mind that other factors such as harsh winter weather conditions can also result in the need to apply a fresh coat of pain more often.

Businesses that maintain a professional and inviting appearance stand a better chance of attracting and retaining employees and customers than those that defer their painting upkeep requirements.
6. How long does it take to paint a commercial building?
When you present your timeline to a contractor, a reputable company will work with you to devise an overall job timeframe that meets your expectation, based on your project's size and requirements. In some cases, they may need to work around your normal operating hours and complete the job in the evenings and over the weekend.
7. How should my business prepare before starting a commercial painting project?
Preparation before a commercial painting project can be straightforward or difficult, depending on your current situation. If the building is vacant, preparation is relatively simple. However, if you're dealing with a fully-staffed office building, the logistics can become more complex.

Every project has unique preparation requirements. These factors should be discussed with your contractor and detailed in the proposal.
8. How does commercial and industrial painting differ?
Approaches to commercial and industrial painting are somewhat similar, but there are a few key distinctions to keep in mind. Commercial painting projects tend to focus on aesthetics, while industrial jobs are oriented toward function.

Both commercial and industrial painting techniques emphasize durability and lasting coats. Industrial paintwork, however, often requires more prep time. Heavy-duty industrial jobs usually entail things like media blasting and the application of protective coatings, such as epoxies and urethanes, that demand additional time.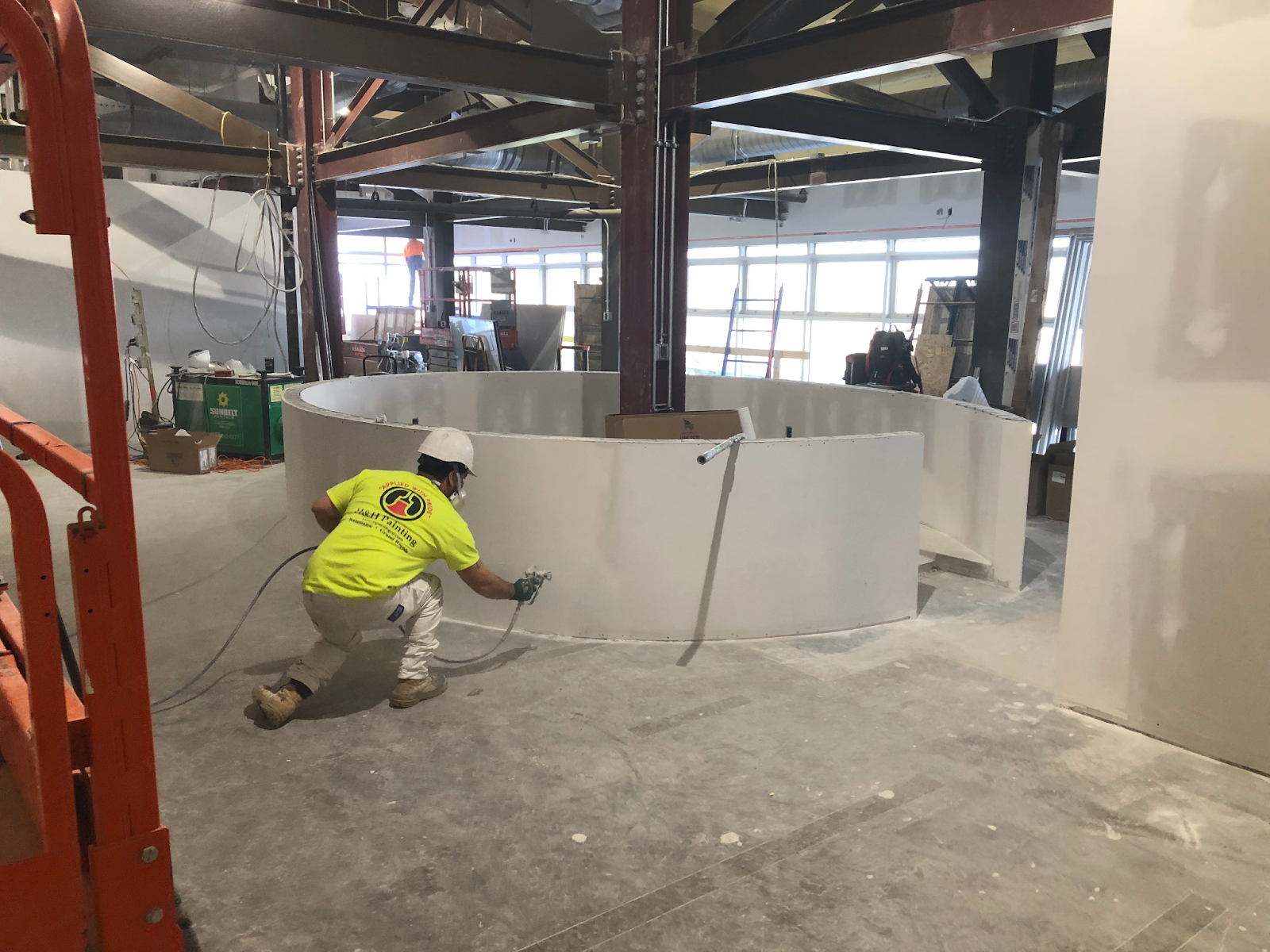 Does Your Business Need Commercial Painting Done?
If you're looking for a commercial painting contractor in the Kalamazoo and Grand Rapids area, H&H Painting Co. is here to help. Our professional team can guide you through the entire process of painting your building. 

To get started, arrange for a no-obligation consultation by filling out the free online quote form or you can give us a call at 269-342-2465.