The Pros and Cons of Different Warehouse Floor Coating Types
Most warehouses rely on concrete flooring to withstand the daily wear and tear of foot traffic, heavy machinery, transport vehicles, or even food and chemical spills. 
To further improve durability, many industrial and commercial building owners turn to resinous flooring systems to protect their concrete floors. While there are several options to choose from, it can be overwhelming to understand and choose the best flooring system for your space's needs and budget.
To help you select the right option, learn more about the advantages and disadvantages of three common resinous flooring systems: epoxy, polyurethane, and polyaspartic. 
What Are Epoxy Floor Coatings?
Resinous flooring systems are made of coatings (or layers) that typically consist of a two-component product that is mixed to create a timed chemical reaction. The result of this chemical and mechanical bond is a durable surface that adheres seamlessly to your warehouse floor. 
While there are many different types of resinous coatings available, one of the most popular products used is epoxy. Epoxy creates a non-porous surface that improves both your floor's durability and appearance.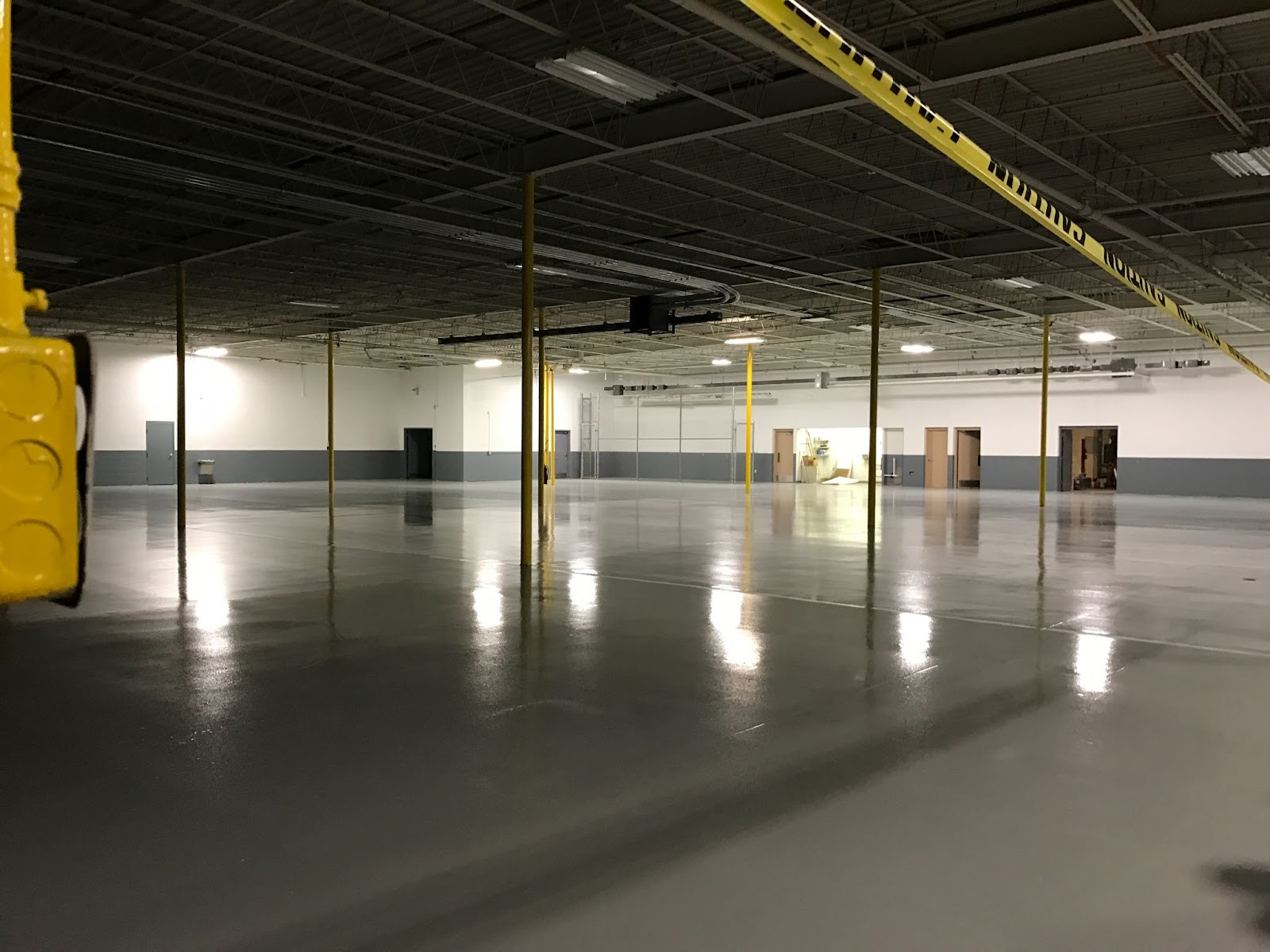 Pros of Epoxy Floor Coatings
Epoxy floor coatings are best known for their tenacious bond to concrete and their hardness and long-lasting durability as they can withstand daily impacts from heavy equipment.
Because of its self-leveling properties and its tenacious bond to concrete substrates is often used as a prime coat in many different coating systems, as a body coat and a receiving coat for aggregates. Epoxies can be applied in much heavier coats compared with polyurethanes and polyaspartics. 
Lastly, epoxy finishes offer many decorative options to improve the appearance of your warehouse floors. Not only do they add a high-gloss finish, but you can choose from a variety of colors and unique characteristics like flake or quartz aggregates. 
Cons of Epoxy Floor Coatings
While epoxy floor coatings can create a durable and beautiful flooring system at an affordable price, they do have a few drawbacks.
Epoxy flooring coatings require professional installation. To ensure a smooth surface finish, professionals follow a multi-step process that involves prepping your existing flooring, and then mixing, applying, and leveling the epoxy layers. Epoxy can also take 72 hours or more to fully cure, depending on its thickness and room temperature. During this drying time, your floors may not be accessible to heavy equipment or traffic.
Because of their non-porous structure, epoxy floors can also be slippery. However, you easily avoid this problem by adding an additional skid-resistant additive.
While many interior and exterior commercial painters swear by a particular brand, H&H Painting Co. recognizes that there are different manufacturers and coatings for different purposes. We like to provide high-quality and flexible options for our customers.
What Are Polyurethane Floor Coatings?
While similar to epoxy flooring systems, polyurethanes are a softer, more elastic resin with its own unique properties. Often, epoxy floors are combined with a polyurethane layer for additional advantages like the following:
Pros of Polyurethane Flooring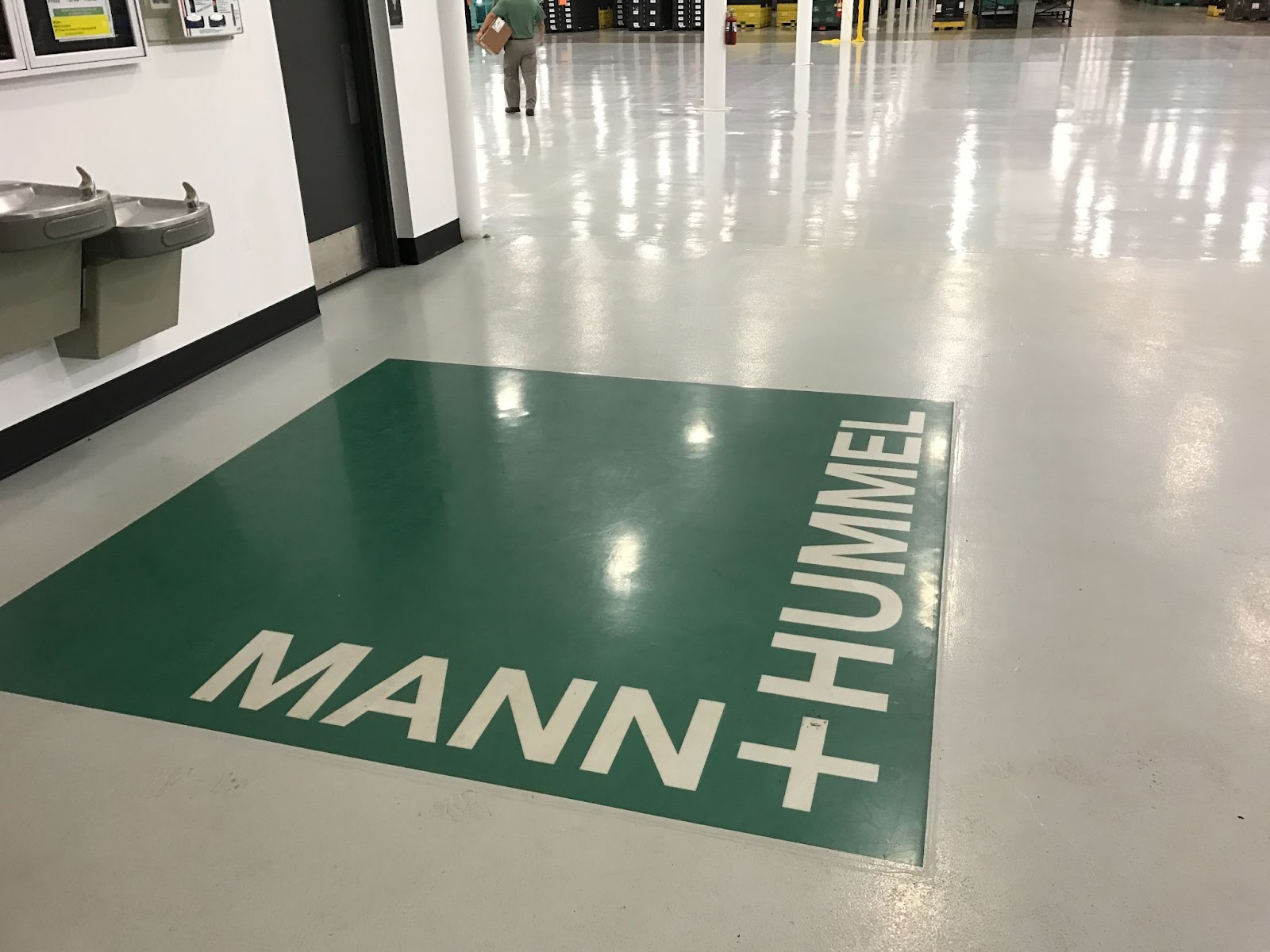 Unlike epoxies, polyurethane coatings are UV-resistant. Over time, your floors won't turn yellow or amber when exposed to sunlight. They also offer increased chemical resistance and heat tolerance. Depending on your industry, these types of properties might be critical to ensuring the longevity and durability of your warehouse floor. 
Similar to epoxies, polyurethane can come in a variety of sheens from matte to high gloss, and a variety of colors. Polyurethanes are a more abrasion resistant coating than an epoxy, so this is why you will often find them as a finish coat over an epoxy. Polyurethanes are known for holding their gloss much longer than an epoxy.
Cons of Polyurethane Flooring
Because of its short curing times, polyaspartic coatings must be carefully installed by professionals like H&H Painting Co. A polyaspartic is basically a hybrid polyurethane. It has the same benefits as a polyurethane except at a higher degree, it will be more UV stable, more abrasion resistant and can be applied in thicknesses similar to epoxies.
What Are Polyaspartic Floor Coatings?
Polyaspartic is a hybrid urethane polymer material used to make industrial-grade floor coatings. Like the other flooring solutions described above, polyaspartic flooring is a two-part system that relies on a resin mixed with a catalyst before installation.
While polyaspartic is considerably more expensive than both epoxy and polyurethane, the extra cost comes with some notable advantages. 

Pros of Polyaspartic Flooring
Polyaspartic coatings are known for holding a high gloss while being extremely UV-resistant and chemical-resistant, even more so than polyurethanes. When applied, they also contain very low to no VOCs.
Polyaspartic can be used as a complete flooring system or a topcoat. This means polyaspartic can achieve in a single coat what traditional epoxy and polyurethane typically achieve in multiple coatings. This results in faster application times and shorter curing times. 
Cons of Polyaspartic Flooring
Because of its short curing times, polyaspartic coatings must be carefully installed by professionals like H&H Painting Co. However, when combined with epoxies and polyurethanes, polyaspartic can provide the highest performance for your warehouse floors. 
Consult With H&H Painting Co. for Optimal Warehouse Flooring Results
Choosing the best flooring application for your business depends on its unique requirements. Consult with a professional flooring specialist like H&H Painting Co to understand your options, according to your space and budget. To get started with us, arrange for a no-obligation consultation by filling out the free online quote form or you can give us a call at 269-342-2465.