The Best Approach for Maintaining Polished Concrete Floors
In recent years, polished concrete floors have become popular in commercial and industrial settings. They are known for their durability, wear resistance, and aesthetic qualities.
Compared to other industrial flooring systems, polished concrete flooring systems are low-maintenance. But that doesn't mean that you don't need to take care of them at all. Without proper maintenance, they can begin to lose their luster and potentially degrade over time.

To extend the lifespan of your polished concrete flooring, you need a routine schedule for cleaning and repair management to keep them shiny and safe for working conditions.
What Shortens the Lifespan of Concrete Floors
Every building owner with polished concrete floors should be aware of these common threats that can shorten your floor's lifespan.
1. Use of Wrong Cleaning Chemicals
Cleaning your concrete flooring system with the wrong chemicals can degrade the surface over time. Janitorial and maintenance crews often use cleaning agents meant for vinyl or hardwood that ultimately cause deterioration.
In the winter months, sodium Chloride (NaCl) used in deicing salts can easily track into your building. But if left on polished concrete flooring for any extended time, the salt residue will start degrading its surface, which can lead to expensive repairs and, ultimately, an early flooring system replacement.
Even something as common as food spills, like sodas, orange juice, and pickle juice can do almost as much damage to a polished concrete floor as battery acid. Cleaning up food spills right away, especially those with acidic properties can immensely extend the lifespan of your concrete floors and prevent staining of the floor.
4. Overuse of Cleaning Detergents
While dirt and abrasives in high-traffic areas should be removed promptly, you should be careful not to overuse cleaning detergents, even if they are compatible with concrete floors. Corrosive cleaning agents high in alkaline content will dull the polished concrete surface and begin to etch them away.

Remember to always use PH-neutral floor cleaners routinely to suspend and eliminate the contaminants listed above. While cleaning with water only might seem like the safest route, it isn't effective, and your floors will quickly start showing signs of neglect.
How Often Should You Clean Polished Concrete Floors?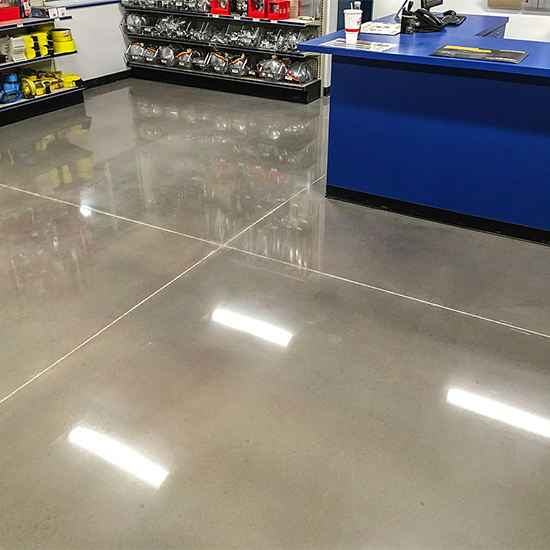 Cleaning your polished concrete floors daily, followed by a more thorough, deep cleaning at least once a week, is vital to keeping your surfaces in top shape.
If you have access to professional floor polishing tools, such as Diamabrush tooling made to attach to your walk-behind or ride-on scrubber, will help maintain the shine of your polished floors for years to come. This type of tooling is typically used one time per month or so to maintain the shine on a polished concrete floor. Further, hiring a professional contractor like H&H to re-polish your concrete floors on an annual basis can restore their luster.
1. Daily Care for Polished Concrete Floors
The abrasive qualities of the accumulated dirt and grime will start grating away your floor's surface. To prevent daily surface damage, clean your polished concrete floors with dust mops and microfiber cloth pads. Avoid using dirty mops and pads. It's crucial not to let anything scratch or etch the flooring during cleaning.

Always use fresh water with a neutral-PH floor cleaner in your daily mopping routine as this avoids the use of chemicals that could lead to concrete deterioration. Cleaners that contain too much alkaline or other acidic content will eventually cause surface damage. 
Use a wet mop and work the floor in sections to ensure a thorough cleaning each day. Handle any spills immediately after they occur. This also helps to eliminate other issues like bacteria and mold.
2. Weekly Polished Concrete Floor Care
In addition to daily cleaning, you should follow a weekly deep cleaning process consisting of sweeping and scrubbing using a floor scrubber with either soft bristle brushes or a red 3M pad designed for daily cleaning. Once the floor is cleaned you can also use a burnisher with a white or diamond-impregnated pad to restore the floor's luster. Do not burnish the floor without a deep cleaning prior.
Following burnishing you should dust mop the floor to clean up the light dust created by burnishing. Burnishing can be done once a week, once a month, or just when you notice that your polished floor is starting to lose some of its shine.
3. Monthly/Annual Maintenance of Polished Concrete Floors
While polished concrete floors don't require frequent waxing, polishing, and sealing, we still recommend using specialized polishing equipment to handle these tasks at least once a year, if not every six months. You might be able to wait as long as three years, assuming you always adhere to the proper cleaning and maintenance procedures.

Intermittent polishing is nearly always handled by a commercial flooring professional like H&H Painting Co. as they own and use single- and variable-speed concrete polishing tools for the best results.
Need Help Maintaining Your Polished Concrete Floors?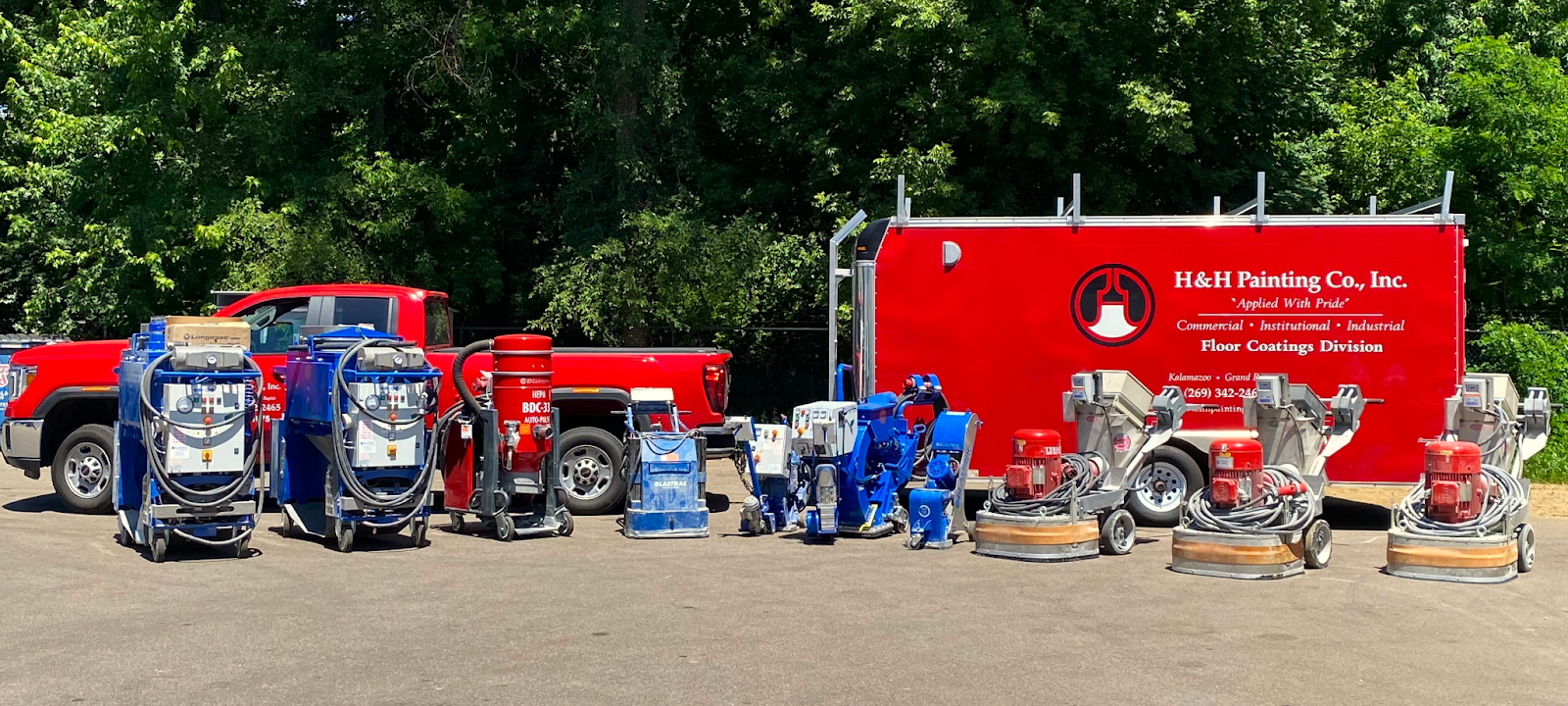 Weekly and daily cleanings are essential, but, ultimately, may not bring your floors back to life. For annual cleanings or extensive repairs, you likely need help from professional maintenance solutions and resources.

Reach out to the commercial and industrial flooring experts at H&H Painting Co. today. We've been providing flooring installation and maintenance services to the Southwest Michigan business community since 1932. For more info, call us now at 269-342-2465.